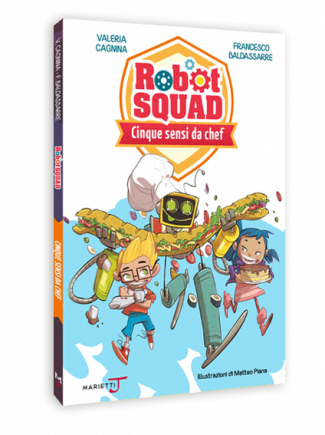 format
paperback, cm 16,5x24, full colours illustrations
A Chef's Five Senses
WHEN SCIENCE MEETS IMAGINATION, NOTHING'S IMPOSSIBLE. TAKE IT FROM A ROBOT!
In Gasly's family, everyone eats cheese-and-onion sandwiches for lunch, dinner, and snacks. But Gasly can't take it anymore! He wants to learn how to cook. In fact, he wants to be the best chef in the world!
To help their friend make his dream come true, Emma and Plank take him to the Impossible Lab, a place at the end of the universe where three zany robot scientists make the impossible possible. Here, Gasly discovers that the secret of being a dream chef is hidden… in your senses.

Royalty Free Music from Bensound