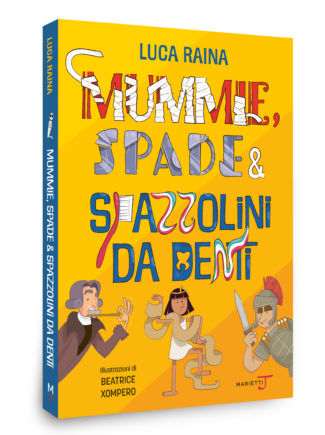 format
hardcover, cm 18 x 24, full colour illustrations
Mummies, Swords and Toothbrushes. Travelling Through Time in 20 Objects + 1
IF EVERYDAY OBJECTS COULD TALK… THEY WOULD TELL THE STORY OF HUMANITY!
Clio is definitely a girl of her times: she loves everything that's new and even has her own personal robot, Rob. In the time in which she lives, the old-fashioned objects that her father, Astolfo, is fond of, have been relegated to a very unusual place: The Museum of Lost Objects, where it is possible to observe boring and outdated things like books, forks, chess sets, umbrellas…
The day that Dad brings Clio and Rob to visit the museum, however, she discovers that the everyday life objects of a lost time have a lot to say for themselves. And through the many stories, and secrets, and inventions, she and Rob experience an amazing trip through time in search of the story of humanity.