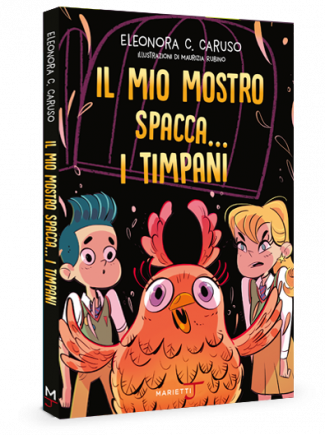 format
paperback with flaps, cm 14.8 x 21.5, full colours illustrations
My Noisy Monster!
COULD MIA, THE NEW KID IN CLASS AND INTERNET SUPERSTAR, HAVE A MONSTROUS HIDDEN FEAR?
Leo and his friends share a secret. A secret that, in Leo's case, looks like a slobbering, smelly, but irresistible monster. Called Booger, his monster represents his huge fear of being stupid. Olivia's monster is Frou-Frou, who's as ditzy and bubbleheaded as she is tough and determined. And then Ren's monster is the mysterious… Shadow!
Apparently, even Mia, the internet superstar and new kid in class, has a terrible hidden fear. And Leo suspects that, right on the eve of the big school play, Mia's fear is about to transform into a mega-monster! But the Monster Buster Squad is ready for action!

Royalty Free Music from Bensound