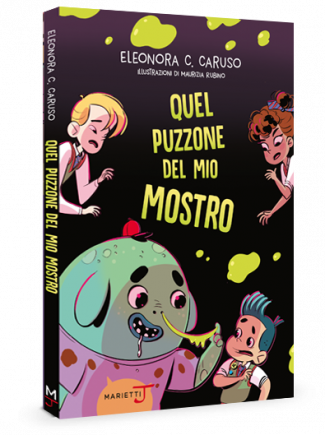 format
paperback with flaps, cm 14.8 x 21.5, full colours illustrations
My Stinky Monster
ONE DAY, LEO COMES ACROSS A SLOBBERING, STINKY MONSTER. FROM THAT MOMENT ON, IT FOLLOWS HIM EVERYWHERE! BUT WHO IS THIS MONSTER AND WHAT DOES IT WANT WITH LEO?
Even if they don't know it, all children have their own monster – a kind of big, bad troublemaker that follows them everywhere. Leo, though, can actually see his! And even though he doesn't want to deal with it, he's going to have to.
Little by little, Leo works out that monsters are made of nothing more than children's fears. Not only that, he discovers that you can even live with your monster. All it takes is getting to know them a little…. Unless, of course, your fears get bigger. If that happens, the monster grows, too. And maybe it will be dangerous.
To tame his monster, Leo will have to use all his courage and creativity in a real battle of the imagination.

Royalty Free Music from Bensound